Exclusive in-depth interview with Jamela Law of Baëlf Design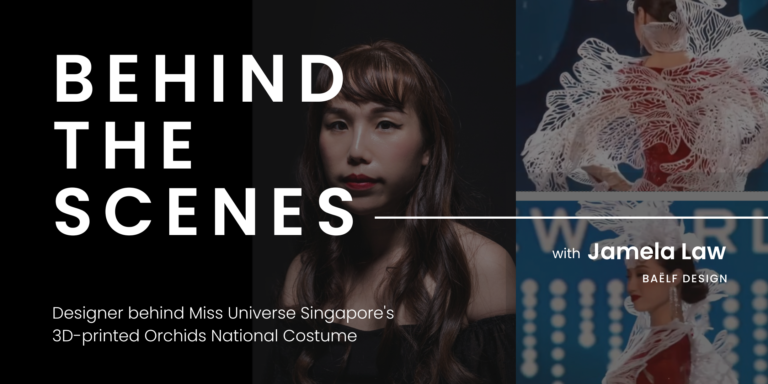 During the 71st edition of the Miss Universe competition, the iconic Singapore National Dress worn by Miss Universe Singapore Carissa Yap had garnered much attention from the public.
Jamela Law from Baëlf Design, 1 of the 5 the finalists from Singapore Stories 2022 was the designer behind the iconic 3D-printed Vanda Miss Joaquim Orchids Outfit presented as the national costume. This project is in collaboration with Singapore Couturier Frederick Lee, who crafted the inner elegant sequin bodysuit and provided creative guidance.
Continue reading to find out more about Jamela's creative process and journey as a designer of our national costume.  


Q: What inspired you to become a fashion designer? 
Well, creative expressions help me spark difficult conversations and reopen doors that closed in my face. I am a voracious consumer of information, especially of my passions such as the Natural Sciences, Technology and Culture. This is when fashion design comes in, acting as an adhesive to the multiple disciplines I am passionate about. Fashion is the design of change, a kind of storytelling that is so important in a world that does not always embrace individuality or differences. It is an embodiment of art, expression and communication that reflects the values of our times. To me, making wearables is like building an identity; much like building an architecture, a façade, an exoskeleton, and armour for protection or for protest. Fashion Design is certainly a field where I will not get bored in. 
Q: How would you describe your design aesthetic? 
I am a proud geek. I do a lot of reading and research before working on each project. Cross-pollination and synergistic collaborations across different disciplines excite and drive me. One will see plenty of botanical and mathematical elements in my works, such as fractals, complex dynamics, swarm particles, etc.  
At Baëlf Design we like to use tinker with new tools and develop unique techniques to fabricate each project. For example, in my recent collection 'Mindful Intersections: Charting the Course Less Travelled' for Singapore Stories 2022, I experimented with Restorative Design, using carbon extracted from air pollutants as upcycled pigment for silkscreen printing. Hence, I would describe my designs as futuristic, bold, peculiar yet conscientious.  
 Q: Could you share with us your creative process of conceptualising this piece for Miss Universe Singapore? 
The much beloved icon of Singapore, the Vanda Miss Joaquim flower, embodied Singapore's strength, and character through our diversity. Seeing this inspiration in a new light, we at Baëlf Design imagines the islands of Singapore composed as the five-fold petals of an orchid draping the upper torso of Miss Singapore. By using algorithms to grow organic, vein-like structures, these petals form a high-rising collar as well as gracefully outstretched wings, all sensually enveloping the body in a lightweight, white coloured 3D printed lattice. Ultimately, the 5 petals unite to compose the unmistakable silhouette of Singapore. 
To supplement the main flower, additional Vanda Miss Joaquim florals are rendered with similar lattice textures in white. The primary orchid will be perched on Miss Singapore's head as a crowning fascinator, while additional elements such as the leaves and vines are tastefully positioned on her hips as well as along each leg. The movement and asymmetry of these elements are accentuated by the sensual, deep red of the underlying bodysuit crafted by our collaborator Couturier Frederick Lee, embellished with sensual red sequins glittering beneath as sharp highlights.  
As Frederick was a judge and dress designer for the Miss Singapore pageant for many years, we respected his creative direction and are thankful for his advice.
Q: How long did the entire process take? 
There was back-and-forth communication between Baëlf Design and Frederick Lee, negotiating the overall direction of the design of the garment. This took several weeks due to our busy schedules. 
Once the design was finalised, we made and sent over some material prototypes for approval. Thereafter, it took Baëlf Design another week or two to model the design on a digital mannequin with measurements resembling Miss Universe Singapore Carissa Yap. Since the dress was 3D printed using FDM technology, we had to carefully dissect the design into more than a hundred parts so that each modular piece can be printed in our machine which has a build envelope of approximately 30cm X 30cm. To modify the properties of the material, we hacked the printer's g-code to intervene with the material's density and composition mid-operation. This part of the process is probably the most time consuming.  
Once we had all the 3D printed parts, we laid them out at Frederick Lee's studio and planned their placement on the bodysuit he had crafted. The meticulous sewing takes another week. Altogether, about 2 months were spent on crafting the costume.  
Q: What is the most challenging part about this collaboration? 
Learning to let go of complete creative freedom wasn't easy. I had to remind myself that this work is not just about myself, but it represents Singapore as a country. Therefore, throughout the design process we were extremely careful with political sensitivities and had to ensure our interpretations were not biased or self-serving. 
Additionally, sequins can be a nightmare to work with. I am grateful Frederick was willing to experiment mounting 3D prints on such a challenging material. He had been very kind and reassuring throughout the project, and I am humbled to have learnt much from him. 
Lastly, we are aware how critical and callous comments on social media can be regarding Singapore's pageant entries. We had to be mentally really for the onslaught of comments online and on tabloids.
Q: How do you see the future of fashion? 
Rapid technological advancement is inevitable, therefore I have compelled myself to transition into the field of digital fashion. Materiality might not be as crucial for digital natives, and I find the flexibility and amplitude of control in new digital spaces liberating. Furthermore, there is less material waste as we avoid the irresponsible consumption practices of fast fashion.
Q: Any upcoming projects that you are working on? 
I am currently working with The Material Atelier and London designer Charlotte Werth to produce an accessory line, embellished with bacteria dyed bio resin stones. 
Q: What is one key learning that you would share with others thinking about becoming a fashion designer? 
Occasionally, passion may not be sufficient to build a career. One also needs a purpose, a manifesto. A fashion creator cannot be a mere fashion consumer. We need to constantly innovate and be relevant. Hence, I try to learn something new every day.