Be the Change Summit 2023
Singapore Fashion Council (SFC) successfully organized the second edition of the Be The Change Summit 2023 on 1 August 2023.  The event took place at the Singapore Chinese Cultural Centre and welcomed a good turnout of 350 attendees.
In addition to insightful discussions on sustainability, culture, technology, and talent, the summit also featured a comprehensive sector report on textile recycling in Singapore, expertly conducted by KPMG.
The distinguished guest-of-honour for the event was Minister-of-State Low Yen Ling, Minister of State for Trade and Industry as well as Culture, Community and Youth.  She called the summit a "wonderful example of diverse partnerships that enable the fashion sector to advance in technology, innovation, and sustainability so that collectively as an ecosystem, we can ascend to the pinnacle of Asian craftsmanship".
As the summit concluded, several key takeaways emerged as points of significant interest:
When it comes to fashion and its impact on the environment, how can we do less bad, or more good?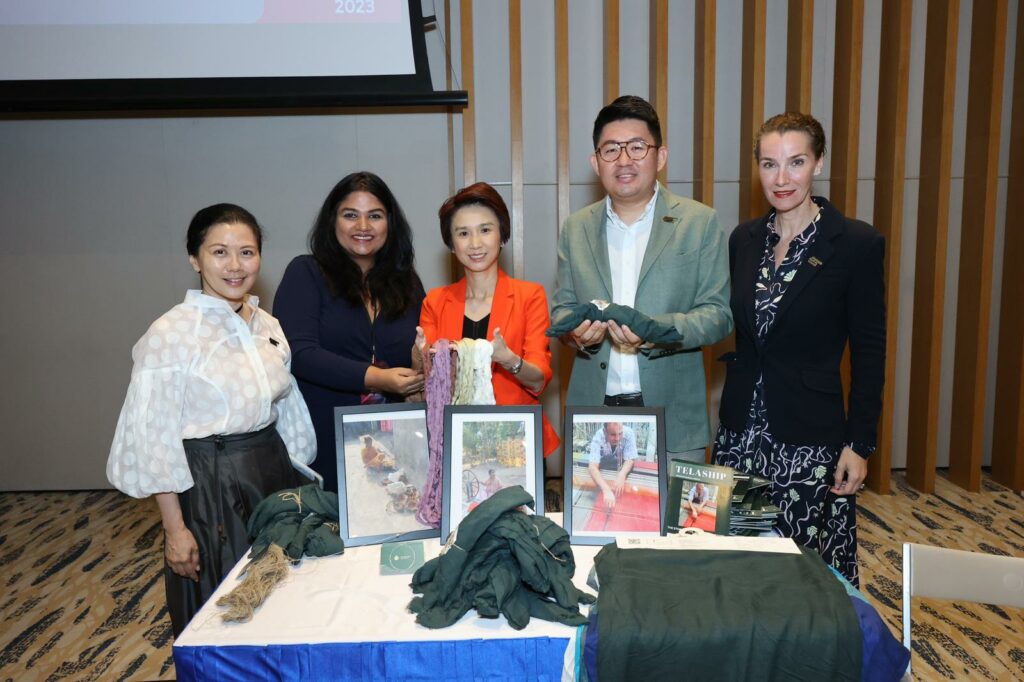 "Less bad" would mean using fewer resources, encouraging lower consumption, and engaging in less harmful manufacturing processes; "more good" would mean adopting more eco-friendly materials, artisanal practices, and so on in the production of fashion.
These were among the questions explored at the summit, as panelists grappled with how to achieve long-term sustainability in an industry defined by the rapidity and evanescence of its trends.
Sharing the costs of responsible consumption
In this day and age, most people do not actually need more clothes.
"Every single purchasing decision is discretionary," pointed out Mr. Edwin Keh, CEO of the Hong Kong Research Institute of Textiles and Apparel, during a panel on responsible consumption. "None of us in this room needs another piece of garment — we won't freeze to death this winter without it. So why we purchase and what utility that brings us is, I think, very important."
Mr. Keh, whose research centre looks at both "less bad" and "more good" sustainability strategies, believes that the onus for consuming more responsibly should fall on the government, brands, and consumers alike.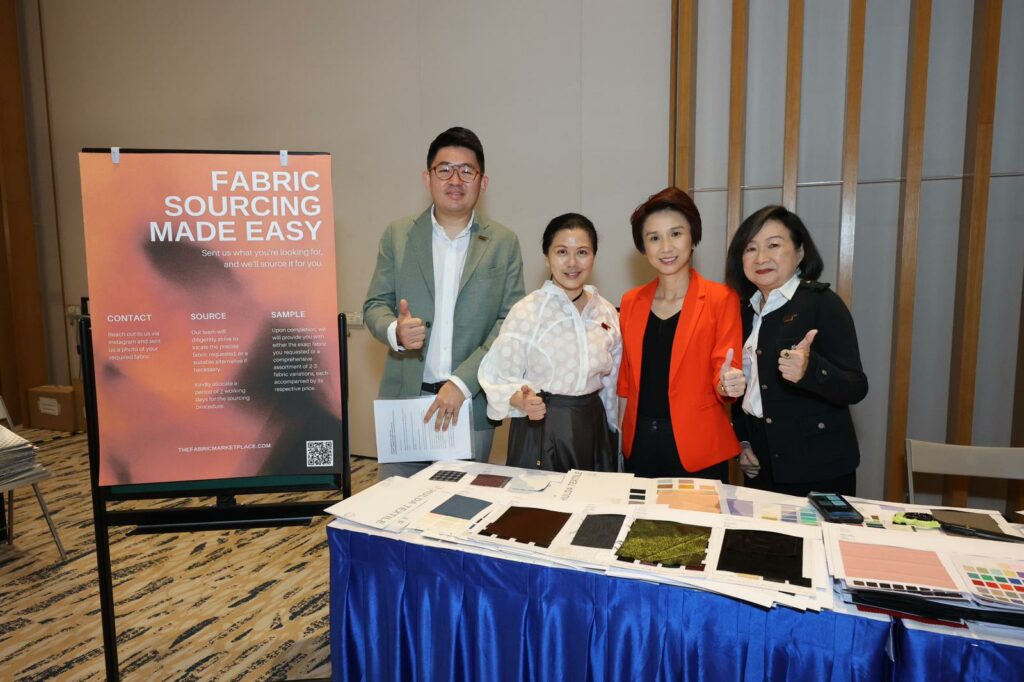 Governments need to create tax structures that reward sustainable behaviour towards the environment and supply chains or punish the inverse. Brands, however, have to take the lead through their values. As for consumers, they should demand transparency and disclosure from brands on how and where their products were made and who made them, so that they can compare brands and make informed purchasing decisions.
Ms. Amrita Haralalka Knight, Founder and CEO of Telaship.com, which connects artisans directly with designers, argued that the brand should take the stress of decision-making from the consumer by providing the assurance that they make sustainable choices as a whole. "When I buy from that brand, I'm not worrying about what I'm picking up, it's stress-free."
Ms. Knight, who hails from a family of artisans in Kolkata, estimates that the artisanal handmade industry could be worth a trillion dollars as early as 2040. Traditional craftspeople may not be familiar with sustainability as a buzzword, she said, but they have been doing it for years. "It's a way of life for them."
Mr. Vincent Djen, co-founder and chief strategy officer of waste recycling social enterprise Remake Hub, spoke about working with designers and product developers further upstream to use materials that are easier to sort and disassemble. "If we don't do it cleanly, the process creates a lot of waste. We want to make the entire supply chain responsible."
Ultimately, Mr. Keh said, it is product quality that matters to the consumer. "We don't want consumers to buy things out of the goodness of their hearts, we want them to buy things because they're durable and high quality. How do we create that value for them?"
Using the past to shape the future of fashion
In his opening speech, council president Wilson Teo touched on the role that heritage crafts and culture might play in slow fashion. "The people who make them are often forgotten or sidelined, and we hope to revive the importance of this aspect of the fashion industry," he said.
In a panel moderated by Mr. Kennie Ting, director of the Asian Civilisations Museum and Peranakan Museum, experts considered the concept of heritage-led innovation.
Dr. Celia B. Elumba, chief technical advisor to the United Nations Industrial Development Organisation, spoke about businesses, such as the Filipino carbon-neutral fashion retailer Bayo, that go the extra mile to engage closely with cultural workers and secure supply chains.
Dr Elumba, who sported a reversible jacket with traditional handloom-woven material on one side and a digital print on the other, added: "Institutional support and patronage of heritage is important, but so is civic participation."
Mr. Ting lamented the tendency in the industry to consider everything labelled "Asian" as "traditional", which he feels is not the case. "Could the variety of local textiles be spot lit as contemporary ways of dressing ourselves?"
Dr Joseph Lo, a UNESCO consultant and Asia-Pacific advisor to the World Craft Council, said that the challenge of highlighting Asian craftsmanship is its invisibility. "The person repairing shoes outside the wet market, the tailor repairing cheongsam — these people do not get invited to this conference."
He asked if we might think of intangible heritage in terms of the experience economy, instead of as a product. "The memory itself is the product."
Embracing fashion's technological evolution
Generative AI such as ChatGPT has industries the world over in a tizzy, and fashion is not immune.
At a panel on technology moderated by Ms. Sharon Lim, Chairwoman of 3D fashion design software company Browzwear, and the council's vice-president, speakers discussed the impact that AI may have on the industry.
Mr. Cliff Szu, co-founder and CEO of tech company Multiverse Labs, said that tools such as DALL-E could, with the right prompts, crank out designs in a matter of seconds. "It's a long way from turning it into a design you can actually sew and stitch, but it will definitely let people visualise things and iterate on it extremely quickly."
He added, however, that he does not think AI will take over design jobs; rather, its emergent abilities may impact the way designers work creatively in the future. "If anything, I think it will make it more accessible. I don't think Coco Chanel achieved success because of her skills with a pencil."
Mr. Kwek So Cheer, partner and digital solutions leader for PwC Singapore, outlined various ways in which AI can be useful to the fashion industry, whether through personalising the shopping experience based on customers' previous purchases, or authenticating products to fight counterfeiting.
Mr. Leonard Lin, global head of public affairs and Singapore general manager for fast fashion retailer SHEIN, said the industry should not rush into blindly adopting various technologies. "These technologies are only useful if you're able to apply them effectively on the most important and transformative trend, which is digital-first retail.
"We deploy audience engagement technologies to better engage our customers and understand what they want. Digital-first retail is about putting your customers at the centre of everything."
Rethinking the talent pool
To succeed in its sustainable goals, the fashion industry must look to diversify the talents it recruits.
A panel on talent, moderated by Nanyang Academy of Fine Arts School of Art and Design dean Sabrina Long, speakers sought to address the future of talent development in the field.
Big Ideas Consultants Founder, Mr. Christophe Roussel said that the industry requires more science skills, such as production technology, data analysts to work with predictive analytics, and agronomists. "These talents don't usually think about fashion as the prime place to go when they finish their studies, but if we want to succeed in the next decade at being more sustainable, we need to start competing for them by going to universities and training them."
LinkedIn Head of Enterprise and New Business, Mr. Edward Chen said that the industry should leverage different types of social media to tell its story, so that it can attract more talents. He pointed out that the fashion industry is presently underrepresented on LinkedIn and could utilise the platform better.  As for companies, instead of looking at specific roles or experiences, they could perhaps break it down to the skills that are essential to them, which would widen their talent pool.
Ms. Natalie Clark, vice-president of Asia product supply for apparel at VF Corporation, said future-forward thinking should be integrated with an appreciation of heritage skills, such as traditional craftsmanship, for a sense of legacy.  She suggested, for instance, a buddy system between different generations of workers so as not to ostracise those less familiar with new technologies. "Relevance is so important — you don't want to be a dinosaur."
In her closing speech, the council's CEO Semun Ho stressed that amid the churn of technological trends and constant disruption, the industry should not lose sight of its core values.
There is something of a conflict in what the council seeks to do with regard to advocating for sustainability and ethics, she admitted. "We are a trade body, and our purpose is to promote business, but that does not mean we leave our conscience behind. So how do we do it smarter?"
Highlights from the 2023 Season