A new chapter for Singapore Fashion Council as a catalyst for collective growth of Singapore's fashion industry
It will drive cross-sector partnerships to establish Singapore as an innovative fashion hub with a focus on developing the industry's expertise in Innovation & Technology, Sustainability and Asian Craftsmanship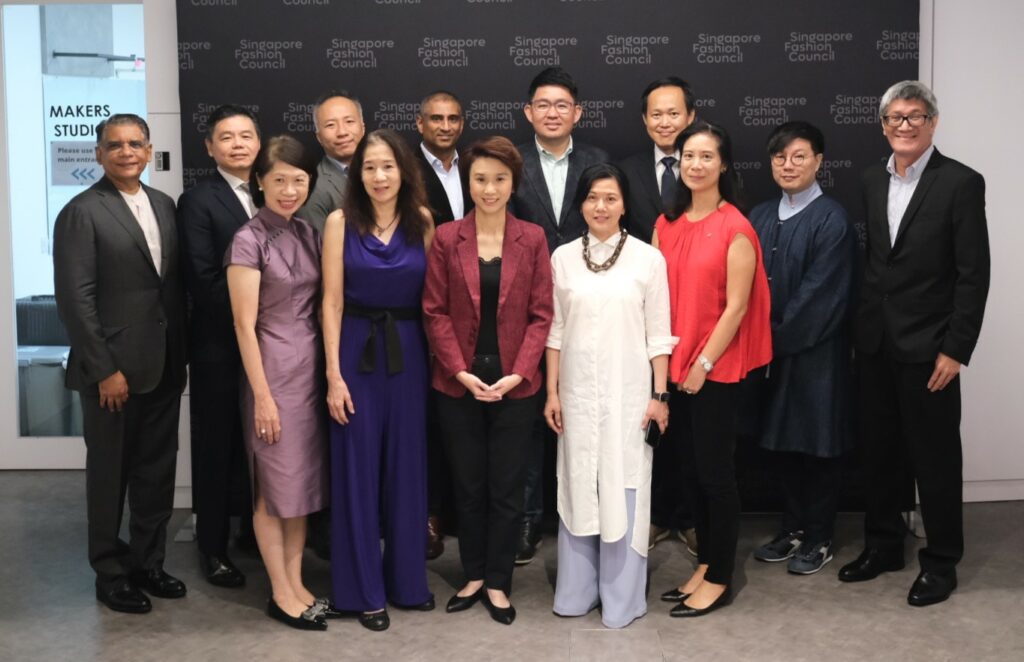 As part of the rebrand, Singapore Fashion Council signed MOUs with ten partners to further the growth of Singapore's fashion industry. Photo credit: Singapore Fashion Council
Singapore, 26 October 2022 — Amid fast-evolving consumer trends, the Singapore Fashion Council (SFC), formerly known as the Textile and Fashion Federation, today unveiled its new rebrand and strategic positioning to better support the aspirations of its members and the wider fashion industry. Aimed at building a more connected fashion ecosystem, the trade association pivoted its role as a catalyst for new and diverse partnerships across sectors and geographics to bring benefits across the value chain.  
Semun Ho, CEO of Singapore Fashion Council said, "SFC plays a catalytic role in supporting the growth of the industry by connecting stakeholders across the fashion ecosystem to unlock strategic opportunities for meaningful collaborations and community-building. We are particularly focused on capability development to help Singapore's fashion ecosystem expand and transform as an innovator amid changing consumer demands. Having talents joining the industry will help to achieve our vision of positioning Singapore as the regional nexus for fashion, and allow us to continue providing pathways for local industry players to make a mark in the fashion world of tomorrow."  
The renewed focus on partnership emerged from consultations with industry leaders to review Singapore's strategic strengths as a fashion hub, and areas in which the local fashion industry can make a positive impact in. To help Singapore fashion industry maintain a competitive edge, SFC has identified three strategic thrusts that the organisation will be looking into as it establishes further collaborations with external parties: 
Innovation & Technology

: Finding avenues offered by new and existing technological solutions to disrupt and reshape industry practices and the human experience. This includes examining areas of opportunities to enhance the local fashion industry's capabilities using 5G, holographic telepresence, augmented reality, virtual reality and opportunities in the Metaverse.

 

Sustainability:

Finding end-to-end solutions that help to mitigate the environmental impact of fashion. This is accomplished through catalysing the journey for companies to adopt sustainable practices. For example, building standards-based frameworks, introducing capacity building programmes like green financing, training and upskilling of workforce, and development of a future talent pipeline.

 

Asian Craftsmanship:

Working to celebrate, promote, and elevate Asian craftspeople and ecosystems. Creating programmes that harness the power and knowledge of generations of skilled expertise, and foster the continued sophistication, development, and longevity of Asian material heritage and histories.
For a start, SFC today signed ten Memorandums of Understanding with ten partners who will work with the association to support the industry in these three strategic thrusts. They include both local and global names such as Asian Civilisations Museum, B Lab Singapore, Deloitte Singapore, DBS, HSBC, LASALLE College of the Arts, Ngee Ann Polytechnic, STACS, StarHub, and Temasek Polytechnic.  
With the help of the partners, SFC will continue to support local fashion brands by providing them with readily-accessible resources, meaningful networking, sustainability-focused innovations and future-forward insights. Please refer to Annex A for details for each partnership as well as quotes from their spokesperson.  
 Wilson Teo, President of Singapore Fashion Council said, "The strategic partnerships we entered today affirms a collective commitment from the whole of industry to further Singapore's mark in the fashion world. They provide a strong steer to address the critical challenges that are driving conversations in the fashion industry both today and in the future. This is just the start, and we look forward to working with more partners in the years to come". 
For media enquiries, contact us at marketing@sgfashioncouncil.org.sg