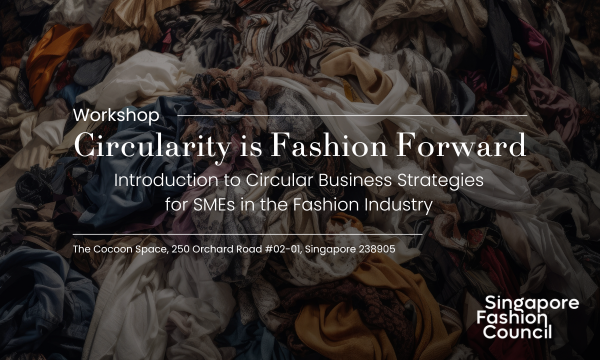 Date: 27 October 2023
Time: 9am-6pm
Venue: The Cocoon Space, 250 Orchard Road, #02-01, Singapore 238905
Fees
| | |
| --- | --- |
| Member | $500 |
| Non-Member | $600 |
The fashion industry plays a significant role in shaping our society, economy, and environment. In recent years, the concept of circularity has emerged as a powerful strategy to address the negative environmental and social impacts caused by the linear "take-make-dispose" model of the industry. In this one-day workshop, gain a comprehensive understanding of circular business design, including practical knowledge and skills to implement circularity in the fashion industry effectively in the SEA context.
Who to Attend
SMEs in the fashion, beauty, and lifestyle industries
Professionals in sustainability and supply chain management.
Course Objectives
By the end of this course, participants will have gained a solid understanding of circularity, its importance in the fashion industry, and how it can be integrated into their own SME businesses. They will be equipped with practical strategies, tools, and resources to embark on their sustainability journey, fostering innovation, resilience, and responsible growth in their operations.
Understanding the landscape circularity in South-East Asia
Awareness of the resources available (e.g., SFC courses, green finance, government grants, tracking tools)
Set goals and formulate plans for the company's sustainability mission and objectives
Instructor's Profile
Cristina Kountiou, Founding Director of Revive Consulting Ltd Hong Kong Cristina's expertise in Fashion Business Development and R&D gives her a comprehensive overview of the industry where she focuses on sustainability and innovation.  Her creative solution-finding approach, using trend forecasting and innovative thought strategies, identifies business opportunities through design and sustainability. She has 20 years in design and development within the fashion industry as well as teaching at Universities in Asia from Fashion Business Strategy to Fashion history, design, concept, and contemporary issues. Her experience oversees challenges within the supply chain, and she advocates connecting industry with education.
Course Overview
Session 1: Understanding Circularity in the Fashion Industry
Introduction to circularity: Definitions, principles, and key concepts
Environmental and social challenges of the linear fashion industry
Exploring the business case for circularity
Opportunities and benefits of adopting circular business strategies for SMEs
Closed-loop systems: Recycling, upcycling, and product life extension
Session 2: Why Circularity is Fashion Forward and Why it Matters for SMEs
Sustainable development and the role of SMEs
Overview of successful circular fashion brands and companies in Southeast Asia
Case studies: Examining their approaches, challenges, and impact
Collaborative approaches: Partnerships, sharing platforms, and new business models
Session 3: Workshop – Kickstarting Your Sustainability Journey
Applying circularity principles to participants' own businesses
Hands-on exercises to identify opportunities for circularity
Group discussions and feedback sessions to brainstorm actionable steps