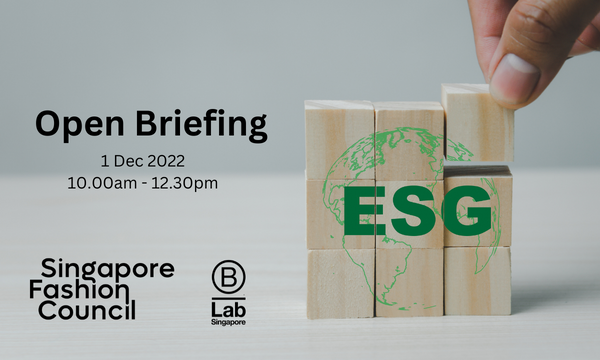 Date: 1 December 2022
Time: 10.00am – 12.30pm
Venue: The Cocoon Space, 250 Orchard Road, #02-01, Singapore 238905
Participants: 30 pax
Fees
| | |
| --- | --- |
| Member | Free (business registrants only) |
| Public (General) | Not eligible |
| Public (Student) | Not eligible |
About
Singapore Fashion Council & B LAB SG Workshop
Many companies in the fashion industry are aspiring to be purpose-led; eschewing damaging environmental practices and embracing responsible reforms. Join us in this two-hour session as we shine a line on trailblazers in the fashion industry who are leveraging B Lab frameworks to build a more just, inclusive and regenerative world. From luxury fashion houses like Chloe to trusted outdoor brands like Patagonia, certified B Corps in fashion, health and beauty are disrupting business as usual, delivering on the UN Sustainable Development Goals and creating a shared prosperity for all.
B Corps are for-profit companies certified by B Lab to meet the highest standards of verified social and environmental performance, accountability and transparency. Purposeful, profitable and resilient, B Corps use the power of markets to maximise, not just profits but, value for all stakeholders – workers, communities, customers and the environment. To date there are over 200,000 users of B Lab tools globally and close to 6000 B Corps across 68 countries and 158 industries.
Programme Outline
Singapore Fashion Council and B Lab Singapore are delighted to invite you to this workshop to:
Learn about the different areas where your business can make a positive impact
Share vignettes of innovative B Corps in fashion and other industries on being a force for good
Explore a pathway to certification for your company as you reshape your supply chains, build an authentic brand and be a game changer in the world of beauty and fashion.