Local designers reinvent Singapore's style for Singapore Stories 2022
The winning capsule collection, Heritage Reinterpreted and Beyond by Kavita Thulasidas will be showcased on the global stage during Paris Fashion Week in October 2023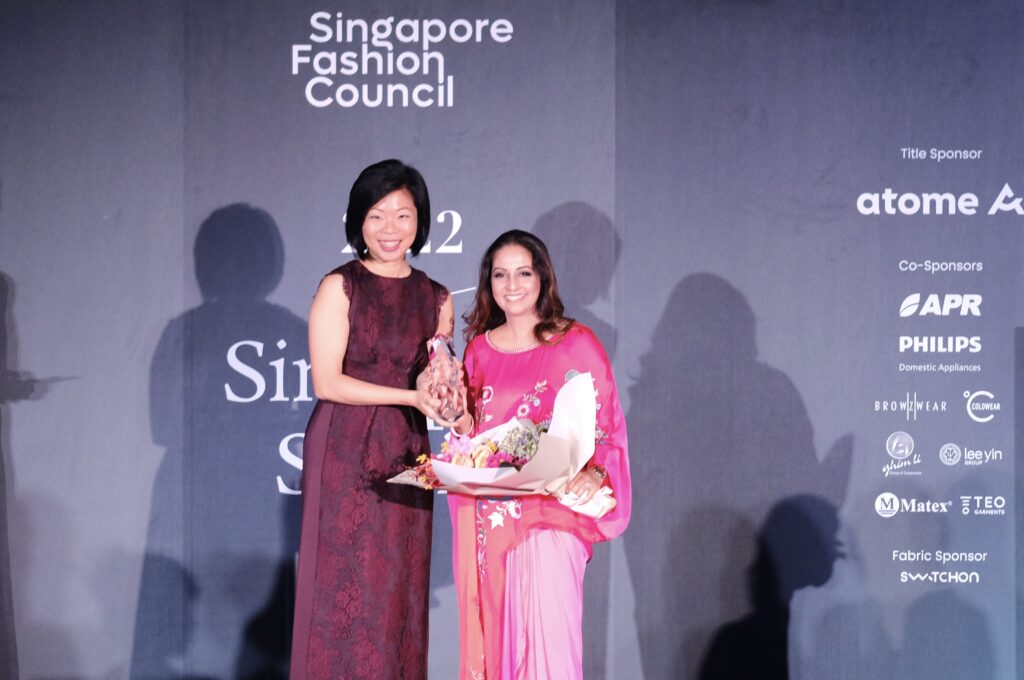 Kavita Thulasidas, winner of Singapore Stories with Senior Minister of State, Ministry of Foreign Affairs & Ministry of National Development Sim Ann
Singapore, 28 October 2022 — This evening, five local designers took to the runway to showcase their interpretation of Singapore fashion for the fifth edition of Singapore Stories 2022 – an annual fashion design competition organised by the Singapore Fashion Council (SFC) and held at the Asian Civilisations Museum. Attended by Senior Minister of State, Ministry of Foreign Affairs & Ministry of National Development, Ms Sim Ann, key fashion industry leaders, and representatives from embassies and government agencies; the event saw Kavita Thulasidas taking home the title as the winner of the competition. 
Themed 'Fashion United', the competition challenged homegrown fashion designers to create Singapore-inspired looks that honour our diverse cultural fabric, and reflect new ideas that forward SFC's mission to establish Singapore as an innovative fashion hub. Five designers were selected for the finals, where they were called to create a capsule collection of six looks contemplating our national identity while celebrating our nation's material heritage and design culture. Donned on the runway by past winners and present contestants of Miss Universe Singapore, each collection also projects the designer's take on the future of fashion through an emphasis on innovation and technology, sustainability, and Asian craftsmanship.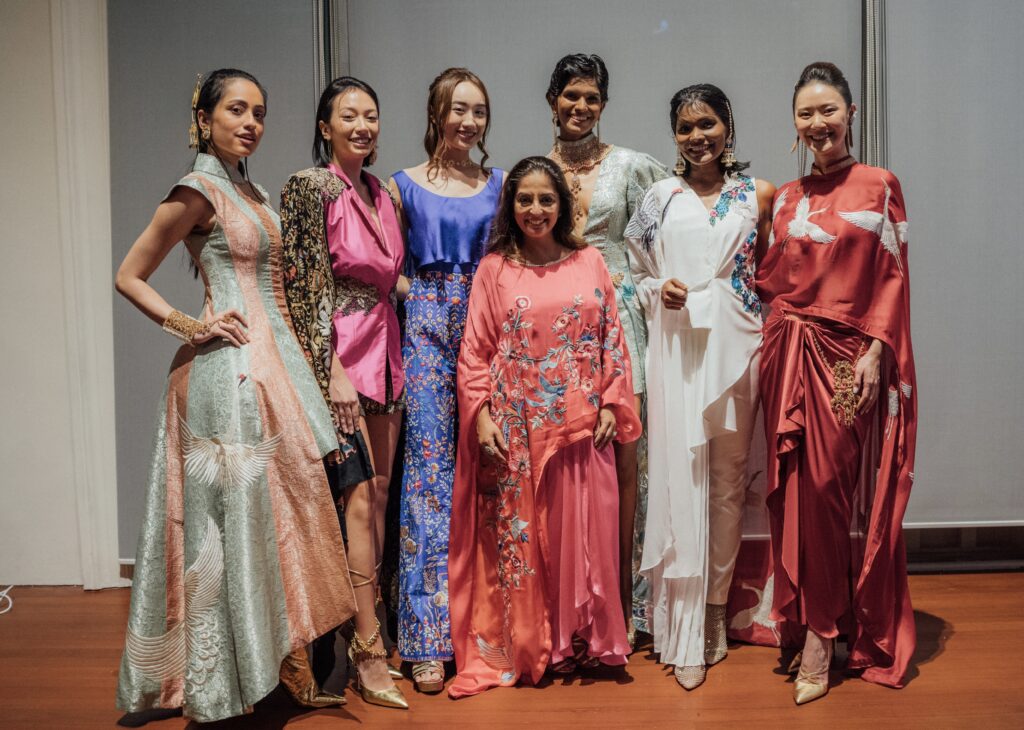 Heritage Reinterpreted and Beyond, the winning capsule collection of Singapore Stories 2022 by Kavita Thulasidas
The winning capsule collection by Thulasidas impressed the panel of judges with her ingenuity and exceptional craftsmanship. Heritage Reinterpreted and Beyond is a proud tribute to Singapore's Asian roots while looking forward to the nation's global aspirations for the future. Incorporating various design elements from indigenous cultures in the region, the collection highlights the highly intricate embroidery techniques that are fast disappearing while inspiring a contemporary perspective to these Asian fashion practices, as we view art through fashion.
"This collection is dedicated to our immigrant forefathers who worked hard to make Singapore the country it is today. I am so proud of our rich and diverse background, and being part of this competition was a wonderful opportunity to reflect on our collective traditions, roots and values. With this award, I am encouraged to continue creating designs that tell our Singapore stories to the world and pass our tradition of craftsmanship to the next generation," said Thulasidas.
"Kavita's collection speaks to the very essence of the stories we tell at the Asian Civilisations Museum. Each design pays tribute to Singapore as a cosmopolitan port city, deeply rooted in our shared East-West heritage. We look forward to presenting Heritage Reinterpreted and Beyond to visitors and hope that this will be a beautiful inspiration to many," said Kennie Ting, Director, Asian Civilisations Museum and Peranakan Museum and Advisor to the Singapore Fashion Council.
Commenting on the works by all the designers on the competition, Leonard Augustine Choo, Resident Mentor of Singapore Stories and Director, Industry Development for Singapore Fashion Council said, "In the designers' works and ideas this year, we continue to witness how clever innovation can energise the fashion world and holistically elevate Singapore's fashion ecosystem. They demonstrate that fashion can be a source of creative synergies with partners outside the sector to create impactful designs. We hope that their drive for reinvention will continue to inspire and uplift new generations of designers to push boundaries, and we look forward to helping them catalyse new opportunities to realise their global ambitions."
The competition, which provides an industry-supported platform for local fashion designers to showcase their talent, has attracted support from local and internationally-known companies such as presenting sponsor, RGE; title sponsor, Atome; and sponsor Philips Domestic Appliances. They also get to present their creativity and expertise to a global audience. Apart from walking away with a cash prize of S$5,000, Thulasidas will get a chance to showcase her work to an international audience during Paris Fashion Week in October 2023. Additionally, she will have the opportunity to showcase her capsule collection alongside renowned designers in ACM's contemporary gallery, as well as a retail collaboration with Design Orchard.
Sharon Chong, Sustainability and External Affairs Vice President of Singapore-based RGE group of companies, who are the presenting sponsor of the event, said: "We believe sustainability can inspire creativity and, as the world's largest producer of viscose, we want to collaborate with local fashion brands and designers in Singapore to make sustainability a fashion statement. We can leverage our capabilities as an integrated manufacturer in the fashion value chain to work with the Sustainable Fashion Council to help brands and designers to better understand the sustainable fibre materials landscape and to make responsible sourcing decisions."
Bryan Quek, General Manager of Atome who is the title sponsor of Singapore Stories added,  "Supporting the Singapore Stories is a meaningful initiative for Atome, we are privileged to be able to take a front-row seat in discovering and celebrating new talents in the local fashion industry. This is a natural extension of our collaboration with the Singapore fashion scene, as we are already working with many homegrown fashion brands, to connect their offerings with a young generation of consumers who use fashion as an integral way to express their identity and creativity. We look forward to the unveiling of the amazing designs at Design Orchard."
Thulasidas' capsule collection will be available for showing at ACM as part of #SGFASHIONNOW in 2023, with her ready-to-wear collection available for purchase from 29 October to 9 November 2022 at Design Orchard.
Media materials and images of the five finalists' finale runway and capsule collections can be accessed: